You are here
Address book
Posted Fri, 03/01/2013 - 09:43 by
Scott Robinson
Member list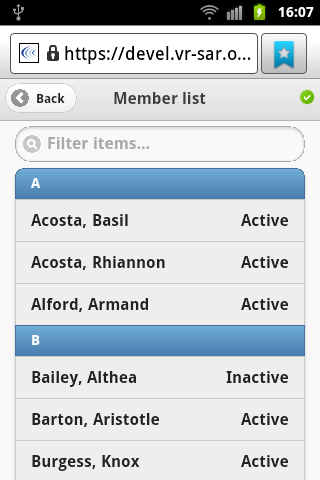 Filtered using
search field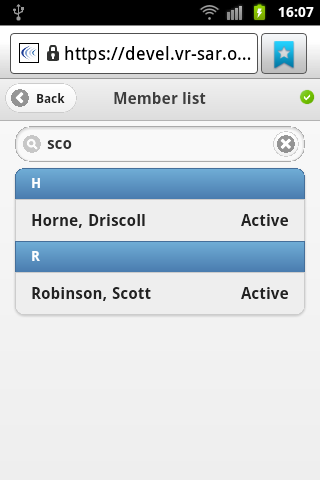 Member details popup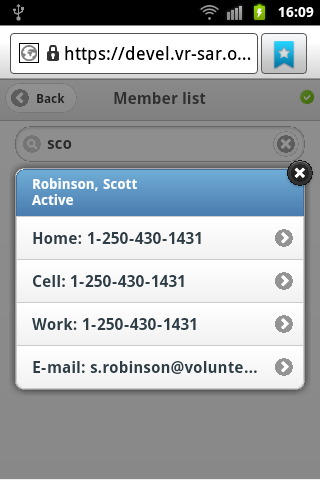 Phone dial screen
with number prefilled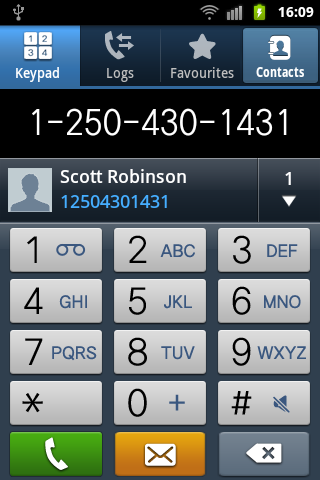 VolunteerRescue can be used as a centralised address book for all contact information for your group enabling access to vital contact information by any member of your group with the relevant access permissions.
Start by collecting information for all your members, if you are already using VolunteerRescue this will already be done. If you are just starting with VolunteerRescue the most efficient way to collect this information is by asking your members to complete the "Interested in becoming a volunteer" form, if 80% of your members complete 80% of the form you already have collected all the important information for the majority of your members resulting in much less input for yourself. If you do not wish to accept volunteer requests online this feature can be disabled once the majority of existing members have registered.
Use the contact list for important contact information such as emergency service contact information, partner agency details, suppliers etc..., do not add everybody rather just those that you use regularly; again think back to a cell phone and how the contact list in your cell phone built up over time.
So you have an address book but what use is it on a web site, well VolunteerRescue provides a number of options to make the most of the contact information.
The main advantage is that your members themselves can keep their own contact details up to date, members are your most valuable resource and having up to date member information is paramount for swift and safe responses.
VolunteerRescue provides an industry standard export designed for exporting and importing contact information that can be imported into third party address book software called the vCard export. This format is ideal for importing into the address book of a phone, outlook, google contacts etc...
Whilst addressing one problem an export/import process can introduce another problem in that the imported information can quickly become out of date raising the question when should you re-export and import the information again ? VolunteerRescue can send an e-mail when a member modifies their profile that lists the modified fields therefore if the notification shows that a phone number field has changed you know to update your contact information in your third party software.
It is getting better but still not ideal for all situations. What if you have a number of SAR managers who all need this contact information for when they are on call. It is now getting unrealistic to export and import contact information into all the SAR managers phones, if they are even happy to have their personal address book full of group contact information. You may have a group 24hr call phone that is kept with the on call SAR manager which would help to address this problem but may not always be available to all SAR managers especially if you have multiple managers on duty for a large task possibly spread over many locations such as a command post, staging area etc...
The next version of the VolunteerRescue app due for release early March 2013 adds to the above for those members with a smartphone. The VolunteerRescue app now includes options to access the member list and contact list from a smartphone whilst still honouring all the security checks that are made using the web site to ensure contact information is protected as defined. The member list and contact list both provide a search facility to narrow down a list. When selecting a member or contact a popup window is displayed showing the selected members' or contacts' phone numbers and e-mail address. Selecting a phone number will take you to the dial screen on your phone where you can place a call to the selected number whilst selecting the e-mail address will take you to your phones e-mail client where you can send an e-mail. This information is not imported or exported but is retrieved in real time direct from the central database ensuring the information is always the latest; whilst you need an internet connection the thinking is that you need cell coverage to make a call in the first place so if you have cell coverage you have internet access.
On a final note, many command posts will have a printed list which is typically just one page of important contact information and VolunteerRescue has a report designed specifically for this. Whilst most reports are lists that are generated based on some ordering criteria such as name, VolunteerRescue has an additional report that allows you to build the report where you define what information is included line by line and in what order. This way you can select the important contact information and create the list in the order of most important to least important.
So there you go, to start with just use VolunteerRescue as your groups address book.